The eLearning Challenge
This ELH Challenge focused on the creation of an eLearning game for kids.
Thinking about concepts for this challenge, with an intended audience of kids, I decided to:
Keep the interface simple
Make it educational
Make it interactive
Provide instant feedback
With these parameters set, I was looking for inspiration for content. I remembered an old t-shirt of mine that had an image representing an ecosystem. The ecosystem included an eagle and mouse and I decided to develop this idea as an interactive game.
The Look and Feel
As the game was intended for kids and could be played on a tablet, I wanted to keep all the graphics clear and big. I obtained public domain vector images of animals and edited them into a collection of icons. These icons would be recognisable and easy to move around the screen. I also wanted to provide some context, and added a background image of a typical location for each of the food chain activities.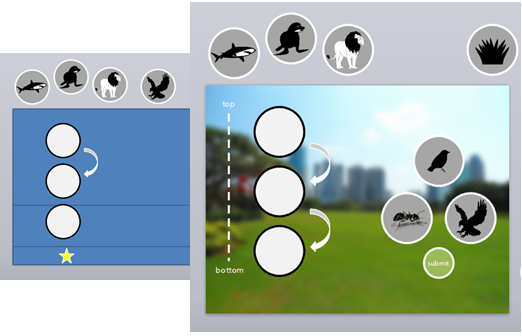 The Game
Game Mission
To arrange three separate food chain items into the correct order.
Game Rules
The player is presented with three items that can be animal, insect or plant, and has to drop the items into the correct position in the food chain.
If the player arranges the food chain correctly they receive a gold star.
The player is required to obtain all three stars to win the game.
Game Feedback
When a gold star is awarded, it appears onscreen immediately along with a positive sounding audio ping.
If the player gets the order wrong, they receive feedback that they were not correct and are not awarded a star.
If the player wins the game, a congratulatory message is displayed.
Game Instructions
At the start of the game, rather than present the player with instructions in text only, I provided a practice activity. This gives the player a chance to build their skills or confidence before playing the actual game. The practice activity was designed in PowerPoint using placeholder objects before being built in Storyline 1.
Logic
The three stars have an initial state of disabled. Three user variables were created that are linked to each star. When the player is successful, the corresponding variable is set to True. When the final screen is reached, all three variables must have a value of True in order to win the game.
Click below to play the game.